Why send flowers when you can send Biscuiteers this Mother's Day?
Chocolates? Done. Flowers? Been there. Biscuits? Now you're talking our language. This Mother's Day make sure Mum has the most unusual, thoughtful and personal gift – send her
Biscuiteers
.
OK, when we say don't send flowers that's not strictly true…
We mean send her flower biscuits. Our clever designers have come up with gorgeous collect of floral designs that are sure to brighten her day. Here are our top floral picks….
NEW! Mother's Day Bouquet

Biscuit

Tin - £39.50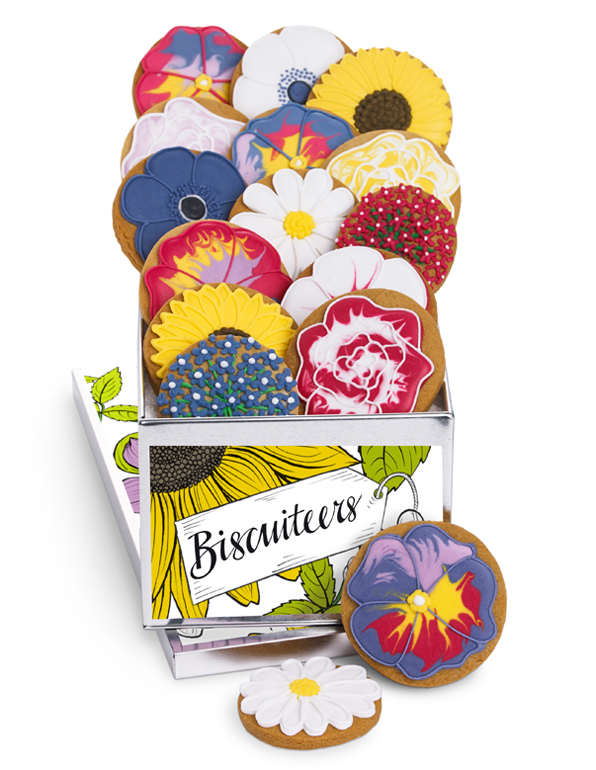 Spoil her rotten with this brand new tin of
biscuit
blooms inspired by our favourite garden flowers. Our keepsake family sized gift tin contains 16 hand-iced biscuits in the shapes of daisies, pansies, anemones and many more.
Mother's Day Flowers

Biscuit

Tin - £30.00 (+£5 for personalisation)
This
biscuit
tin was a firm favourite last year and its back for Mother's Day 2017! Packed full of pastel flower biscuits this gorgeous collection comes in one of our medium sized keepsake tins. What's more you can personalised one of the biscuits in the tin to make it even more special.
Flowers

Biscuit

Card – £9.00
Instead of sending a card why not go one better and send her a
biscuit
card instead. Inside our letter-box sized gift box you'll find a carefully hand-iced bouquet
biscuit
. It's a great little token to send this Mother's Day.
Fleur Jolly Ginger - £6.00
If you can't be there to deliver flowers in person, why not send a gingerbread man instead? Fleur Jolly Ginger carries a beautifully iced bouquet and comes in its own illustrated gift box. Perfect if you want a small surprise to land on her doormat this Mother's Day.